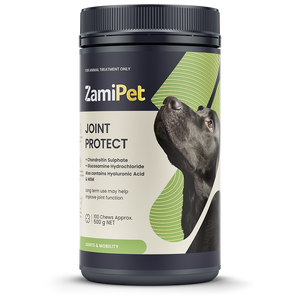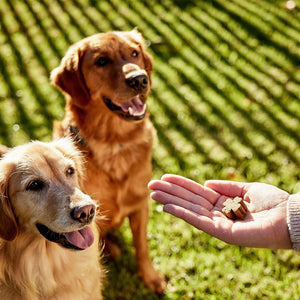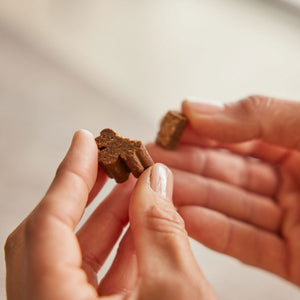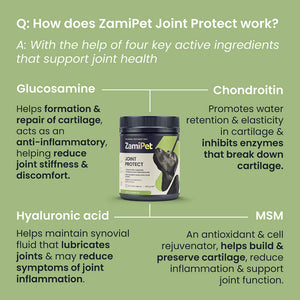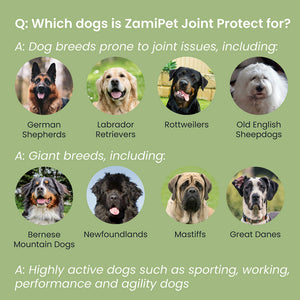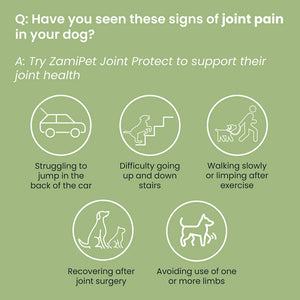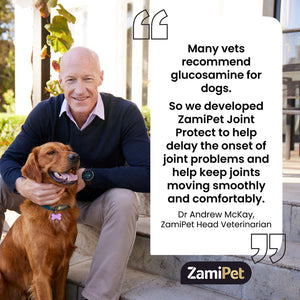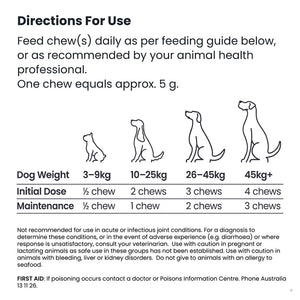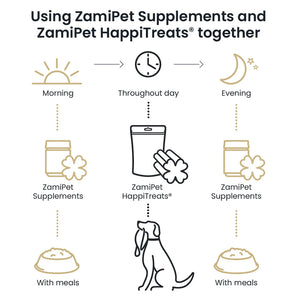 Joint Protect Chewable Dog Supplement
ZamiPet Joint Protect is a great tasting, breakable, chewable dog joint supplement containing Chondroitin and Glucosamine plus Hyaluronic Acid and MSM, to support joint function in dogs.
- 40 Day 100% Taste Guarantee or your money back: Learn more
- Tried, tested and trusted by over 10,000 Australian pet parents
FREE standard shipping on orders over $49!
ZamiPet Joint Protect is a great tasting, breakable, chewable dog joint supplement containing Chondroitin and Glucosamine plus Hyaluronic Acid and MSM, to support joint function in dogs.
- 40 Day 100% Taste Guarantee or your money back: Learn more
- Tried, tested and trusted by over 10,000 Australian pet parents
Always read the label. Intended for occasional or supplemental feeding in line with directions or advice from your animal health professional.
Why use ZamiPet Dog Joint Protect?
As our dogs become more senior (they're now living longer than ever), the cartilage and synovial fluid that keeps their joints healthy and functioning well can begin to deteriorate. You might notice some of these signs:
Your dog's having trouble getting up stairs, into the car, or onto the couch
They're having a restless sleep. Your dog is trying to readjust themselves to get comfortable, but can't because they're starting to experience joint pain
Your dog has started favouring one leg or putting more weight on the front legs, which could be an early sign of joint pain or hip issues
Your dog has previously had an injury or surgery.
This is where a dog joint supplement may help to delay the onset of joint problems, as well as improve the quality of life and overall comfort of your best friend.
Specially formulated with:
Chondroitin Sulfate: Promotes water retention and elasticity in cartilage and inhibits enzymes that break down cartilage.
Glucosamine Hydrochloride*: Promotes the formation and repair of cartilage and acts as an anti-inflammatory, which may help with joint stiffness and discomfort.
Hyaluronic Acid*: May alleviate symptoms of joint inflammation and help maintain synovial fluid that lubricates joints.
Methylsulfonylmethane (MSM)*: An antioxidant and cell rejuvenator, it can help build and preserve cartilage, reduce inflammation and support joint function.
Locally sourced chicken: Made with delicious Australian chicken.
*References:
McCarthy G, O'Donovan J, Jones B, McAllister H, Seed M, Mooney C. Randomised double-blind, positive-controlled trial to assess the efficacy of glucosamine/chondroitin sulfate for the treatment of dogs with osteoarthritis. Vet J. 2007 Jul;174(1):54-61. doi: 10.1016/j.tvjl.2006.02.015. Epub 2006 May 2. PMID: 16647870.
Ezaki J, Hashimoto M, Hosokawa Y, Ishimi Y. Assessment of safety and efficacy of methylsulfonylmethane on bone and knee joints in osteoarthritis animal model. J Bone Miner Metab. 2013 Jan;31(1):16-25. doi: 10.1007/s00774-012-0378-9. Epub 2012 Aug 10. PMID: 23011466.
Balogh L, Polyak A, Mathe D, Kiraly R, Thuroczy J, Terez M, Janoki G, Ting Y, Bucci LR, Schauss AG. Absorption, uptake and tissue affinity of high-molecular-weight hyaluronan after oral administration in rats anddogs. J Agric Food Chem.2008 Nov26;56(22):10582-93. doi: 10.1021/jf8017029.PMID: 18959406.
Specially formulated for:
Dogs predisposed to joint problems, including:

German Shepherds, Labrador Retrievers, Golden Retrievers, Rottweilers, Saint Bernards, Old English Sheepdogs, Newfoundlands and Bernese Mountain Dogs
Dogs that have experienced a joint injury in the past, predisposing them to arthritis
Overweight dogs
Highly active dogs such as sporting, working, performance and agility dogs

Middle-aged to older dogs that may have started to show signs of joint stiffness or discomfort.
Directions for use:
Feed chew(s) daily as per feeding guide below, or as recommended by your animal health professional.
For best results an initial daily dose should be provided as follows for the first 4–6 weeks.
One chew equals approx. 5 g.
Not recommended for use in acute or infectious joint conditions. For a diagnosis to determine these conditions, or in the event of adverse experience (e.g. diarrhoea) or where response is unsatisfactory, consult your veterinarian. Use with caution in pregnant or lactating animals as safe use in these groups has not been established. Use with caution in animals with bleeding, liver or kidney disorders. Do not give to animals with an allergy to seafood.
FIRST AID: If poisoning occurs contact a doctor or Poisons Information Centre. Phone Australia 13 11 26.
When to Use:
Use ZamiPet premium health supplements with morning and/or evening meals, following the feeding guide provided. For optimum support, use in conjunction with ZamiPet HappiTreats® every day to treat your best friend to a nutritious snack with added health benefits.
Key Ingredients
Australian sourced Chicken
Glucosamine Hydrochloride (500 mg)
Chondroitin Sulphate (300 mg)
Full Ingredient List
Australian Sourced Chicken Meal; Rice; Glucosamine Hydrochloride; Chondroitin Sulphate; Gelatine; Glycerol; Food Acid; Methylsulfonylmethane (MSM); Salt; Natural Flavours; Emulsifier; Vitamin C; Magnesium Phosphate; Vitamin E; Vegetable Protein Extract; Calcium Carbonate; Zinc Sulphate; Potassium Sorbate; Hyaluronic Acid; Iron (Ferrous Sulphate); Natural Antioxidant; Copper Sulphate; Selenium; Vitamin B3 (Niacin); Manganese Oxide; Vitamin B2 (Riboflavin); Biotin; Vitamin B12; Vitamin B1 (Thiamine); Vitamin A; Vitamin B6; Folic Acid.
Contains ZamiJoint Complex for dogs (APVMA Listed Product No: 90532/129223).
Typical Composition:
Protein 30%; Fat 3.6%; Fibre <0.1%; Salt 3.5%; ME 60 kJ/5 g.
No artificial colours or flavours.
MANUFACTURED IN AUSTRALIA
Why Subscribe to ZamiPet?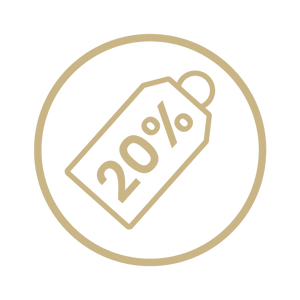 20% ongoing discount
Save 20% off RRP now and on all future subscription deliveries
Easy, regular delivery
Your favourite ZamiPet products automatically delivered, at a frequency that suits you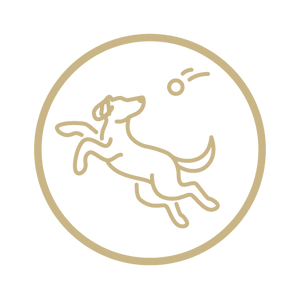 Less life admin
More free time to spend doing what you love with your dog
Frequently Asked Questions
How do I best feed my dog a ZamiPet chew?
Developed for easy feeding, the unique clover-shaped ZamiPet chew can be consumed whole or broken into segments. Please refer to the directions for use to determine the recommended daily serve based on your dog's weight, or speak to your animal health professional.
Are the ZamiPet chews soft enough to break apart?
Yes! We've developed the ZamiPet chews so they can be broken into smaller pieces, so you can vary the dosage depending on your dog's weight. They're also perfect for smaller or fussy dogs who might find smaller pieces more manageable.
What is the best way to store my ZamiPet chews?
Always store your ZamiPet chews below 30°C out of direct sunlight, protected from moisture, heat and light. To maximise freshness, always keep the container tightly closed.
Can I use ZamiPet chews as frequent treats or rewards?
Whilst your dog will no doubt love our chews and see them as delicious treats, the ZamiPet range has been specially formulated for supplemental use and should only be dispensed as per the directions for use, or as recommended by your animal health professional.
For the perfect treat for dogs with added health benefits, explore our range of ZamiPet HappiTreats®.
My dog is a fussy eater and won't be easily tricked into trying something new. How will I go feeding the ZamiPet range to my pet?
There's a fussy eater in every household! We've formulated the ZamiPet range to make our chew supplements, dental sticks and treats super-tasty and irresistible to dogs, using locally sourced chicken and salmon, plus aromas your pet will love! Our ZamiPet High Strength Probiotics+ are unflavoured so you can mix in or sprinkle on top of your dog's favourite meal.
But just like people, dogs have individual food preferences. This can create some challenges and frustration for pet parents when trying to introduce something new to your pet's diet. We've written a blog, 11 Ways to Introduce New Foods to Your Dog, which provides some steps for how to introduce new foods and treats to your best friend.
Should I feed my dog its ZamiPet chews at mealtime?
ZamiPet chews can be fed to your dog at any time of the day as per the recommended dosage. However, the easiest way to always remember your dog's ZamiPet chew, is to feed alongside your pet's main meal. For optimal results, it's best to give your dog the prescribed number of chews in one feeding.
Is it OK to give my dog different products from the ZamiPet range at the same time?
Our Australian vets have formulated the ZamiPet range so that products can be paired together depending on the health needs of your pet, both safely and effectively. Please ensure you always follow the feeding guidelines on the label or speak to your animal health professional.
Are ZamiPet products made in Australia?
All products in the ZamiPet range are manufactured in Australia.
Can I give my dog ZamiPet HappiTreats® as well as ZamiPet premium health supplements?
Yes! ZamiPet HappiTreats® have been specially formulated for use in conjunction with ZamiPet premium health supplements for optimal health. Please refer to the feeding guide for the correct dosage for your pet.
We recommend feeding your dog ZamiPet HappiTreats® during the day, between morning and evening meals.
Choosing a selection results in a full page refresh.
Press the space key then arrow keys to make a selection.
Use left/right arrows to navigate the slideshow or swipe left/right if using a mobile device
Something went wrong, please contact us!
Other dog parents also bought