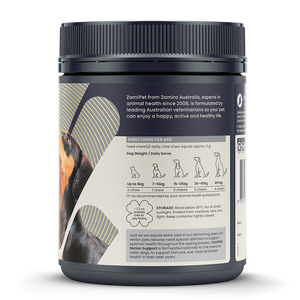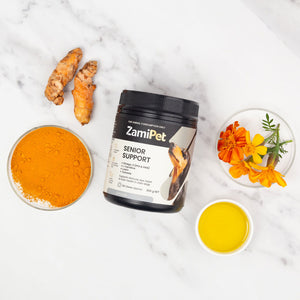 ZamiPet Senior Support Dog Supplement
ZamiPet Senior Dog Supplement is a great tasting, breakable chew containing Omega-3, Turmeric, CoQ10 and L-Carnitine, which may help alleviate symptoms associated with age-related decline in dogs.
- 40 Day 100% Taste Guarantee or your money back: Learn more
- Tried, tested and trusted by over 10,000 Australian pet parents
FREE standard shipping on orders over $49!
ZamiPet Senior Dog Supplement is a great tasting, breakable chew containing Omega-3, Turmeric, CoQ10 and L-Carnitine, which may help alleviate symptoms associated with age-related decline in dogs.
- 40 Day 100% Taste Guarantee or your money back: Learn more
- Tried, tested and trusted by over 10,000 Australian pet parents
Always read the label. Intended for occasional or supplemental feeding in line with directions or advice from your animal health professional.
Senior Dog Supplements
As much as we want our dogs to stay with us forever, it would be unreasonable for us to expect them to exercise, play and be our companions in their senior years the same way that they did when they were were a puppy. At this stage of their life, we need to accommodate how their behaviour changes and show them some extra comfort and patience. Read More
Why use ZamiPet Senior Support?
Just as we require extra care in our advancing years, our senior pets likewise need special attention to support optimal health throughout the ageing process.
A significant percentage of our dog population is ageing. Many dogs are living longer owing to the improvement of veterinary preventative health programs. There is also greater awareness that management of age-related decline in dogs should include a range of methods and treatments, including pet healthcare products.
ZamiPet Senior Dog Supplement is formulated for the needs of older dogs, to support immune, eye, heart and brain health and may help alleviate symptoms associated with age-related decline. It contains unique ingredients that help maintain the efficiency of nerve cells in the brain, helping slow the signs of ageing.
Specially formulated with:
Omega-3: Important fatty acids that help alleviate symptoms associated with age-related decline. It enhances the immune response and may improve maintenance of muscle mass and provide joint support.
Phosphatidylserine: Vital for the efficient functioning of nerve cells, including those in the brain. The body produces less phosphatidylserine as it ages.
Turmeric: Curcumin, the active ingredient in Turmeric, is a natural antioxidant which may help to slow the ageing process by reducing free radicals in the body.
CoQ10: An antioxidant, levels of which decrease with age, supports cellular energy production, which in turn supports the heart, brain and gastrointestinal tract, plus immune system health.
L-Carnitine: An amino acid that supports energy metabolism, which often becomes inefficient in senior dogs, to help support a healthy weight.
Lutein: An antioxidant which supports brain and eye health by helping reduce free radical damage to brain and eye cells.
Locally sourced chicken: Made with delicious Australian chicken.
Specially formulated for:
Dogs showing signs of ageing e.g. greying fur, slowing down or sleeping more
Common Issues for Ageing Dogs
Much like when you first get a puppy, having a senior dog as your companion has some unique responsibilities, like modifying their exercise schedule, spending a little more on vet care or building up a stock of senior dog supplements. If your dog is starting to move towards their senior years, it is worth also understanding where they might need some additional support.
Sensory Decline
An issue that can affect dogs as they age is the loss of sight, hearing, taste and smell. This change is not always obvious at first but can become more noticeable when your dog is more easily startled or less responsive to your commands.
They may spend longer trying to get a scent on things when out for a walk and may also show a lack of appetite when it comes to eating if they are experiencing a decline in their sense of taste. It is important to address these things with your vet, but some of the symptoms can be alleviated with senior dog vitamins and a good diet.
Behavioural Difficulties & Mental Health
As humorous and amusing as dog behaviour can be at times, it's important to remember that dogs are incredibly intelligent animals. Their ability to understand commands and things that we communicate with them is limited, so it shouldn't surprise us to see that they suffer from mental health difficulties in much the same way humans do. As our dogs become more senior, they may begin to respond to changes in their environment with irritability, confusion and sometimes aggression.
Try Our Senior Dog Supplements Today!
The changes that are happening to our dogs' bodies as they get older can be frustrating for them, and their minds can lose some of their cognitive function. Some of the ingredients in our supplements for older dogs are included to help slow the onset of symptoms of age-related cognitive decline. Read Less
Directions For Use
Feed chew(s) daily as per feeding guide below, or as recommended by your animal health professional.
One chew equals approx. 5 g.
When to Use:
Use ZamiPet premium health supplements with morning and/or evening meals, following the feeding guide provided. For optimum support, use in conjunction with ZamiPet HappiTreats® every day to treat your best friend to a nutritious snack with added health benefits.
Key Ingredients
Australian sourced Chicken
Full Ingredient List
Australian Sourced Chicken Meal; Rice; Gelatine; Glycerol; Food Acid; Fish Oil (source of Omega-3); Natural Flavours; Salt; Emulsifier; Vitamin C; Magnesium Phosphate; Vegetable Protein Extract; Vitamin E; Potassium Sorbate; Calcium Carbonate; Zinc Sulphate; Phosphatidylserine; Lutein Extract; L-Carnitine; Turmeric Extract; Iron (Ferrous Sulphate); Natural Antioxidant; CoQ10; Copper Sulphate; Selenium; Vitamin B3 (Niacin); Manganese Oxide; Vitamin B2 (Riboflavin); Biotin; Vitamin B12; Vitamin B1 (Thiamine); Vitamin A; Vitamin B6; Folic Acid.
Typical Composition:
Protein 30.7%; Fat 7.5%; Fibre 0.2%; Salt 3%; ME 62 kJ/5 g.
No artificial colours or flavours.
MANUFACTURED IN AUSTRALIA
Why Subscribe to ZamiPet?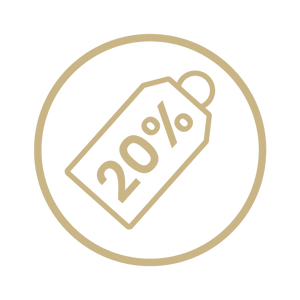 20% ongoing discount
Save 20% off RRP now and on all future subscription deliveries
Easy, regular delivery
Your favourite ZamiPet products automatically delivered, at a frequency that suits you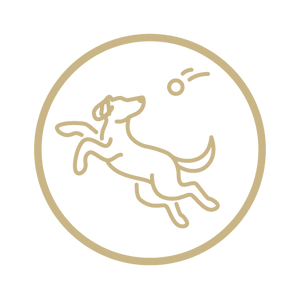 Less life admin
More free time to spend doing what you love with your dog
Frequently Asked Questions
How do I best feed my dog a ZamiPet chew?
Developed for easy feeding, the unique clover-shaped ZamiPet chew can be consumed whole or broken into segments. Please refer to the directions for use to determine the recommended daily serve based on your dog's weight, or speak to your animal health professional.
Are the ZamiPet chews soft enough to break apart?
Yes! We've developed the ZamiPet chews so they can be broken into smaller pieces, so you can vary the dosage depending on your dog's weight. They're also perfect for smaller or fussy dogs who might find smaller pieces more manageable.
What is the best way to store my ZamiPet chews?
Always store your ZamiPet chews below 30°C out of direct sunlight, protected from moisture, heat and light. To maximise freshness, always keep the container tightly closed.
Can I use ZamiPet chews as frequent treats or rewards?
Whilst your dog will no doubt love our chews and see them as delicious treats, the ZamiPet range has been specially formulated for supplemental use and should only be dispensed as per the directions for use, or as recommended by your animal health professional.
For the perfect treat for dogs with added health benefits, explore our range of ZamiPet HappiTreats®.
My dog is a fussy eater and won't be easily tricked into trying something new. How will I go feeding the ZamiPet range to my pet?
There's a fussy eater in every household! We've formulated the ZamiPet range to make our chew supplements, dental sticks and treats super-tasty and irresistible to dogs, using locally sourced chicken and salmon, plus aromas your pet will love! Our ZamiPet High Strength Probiotics+ are unflavoured so you can mix in or sprinkle on top of your dog's favourite meal.
But just like people, dogs have individual food preferences. This can create some challenges and frustration for pet parents when trying to introduce something new to your pet's diet. We've written a blog, 11 Ways to Introduce New Foods to Your Dog, which provides some steps for how to introduce new foods and treats to your best friend.
Should I feed my dog its ZamiPet chews at mealtime?
ZamiPet chews can be fed to your dog at any time of the day as per the recommended dosage. However, the easiest way to always remember your dog's ZamiPet chew, is to feed alongside your pet's main meal. For optimal results, it's best to give your dog the prescribed number of chews in one feeding.
Is it OK to give my dog different products from the ZamiPet range at the same time?
Our Australian vets have formulated the ZamiPet range so that products can be paired together depending on the health needs of your pet, both safely and effectively. Please ensure you always follow the feeding guidelines on the label or speak to your animal health professional.
How do I determine if my dog is 'senior'?
Individually, when a dog becomes senior will depend on health, exercise routine and any pre-existing health conditions. However, a dog is considered to have entered its senior years when it has reached the last quarter of its life expectancy. As a general rule, large dogs tend to age more quickly than smaller dogs. So, whilst a large dog like a Great Dane might be considered 'senior' after just six or seven human years, for smaller dogs like Boston Terriers, it's 10 or 11 years. And mid-sized dogs? Around nine human years.
Are ZamiPet products made in Australia?
All products in the ZamiPet range are manufactured in Australia.
Can I give my dog ZamiPet HappiTreats® as well as ZamiPet premium health supplements?
Yes! ZamiPet HappiTreats® have been specially formulated for use in conjunction with ZamiPet premium health supplements for optimal health. Please refer to the feeding guide for the correct dosage for your pet.
We recommend feeding your dog ZamiPet HappiTreats® during the day, between morning and evening meals.
Choosing a selection results in a full page refresh.
Press the space key then arrow keys to make a selection.
Use left/right arrows to navigate the slideshow or swipe left/right if using a mobile device
Something went wrong, please contact us!
Other dog parents also bought