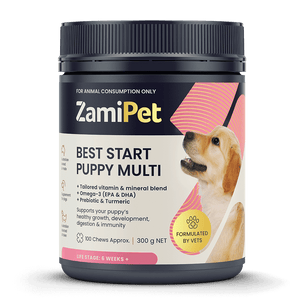 ZamiPet Best Start Puppy Multi Vitamin
ZamiPet Best Start Puppy Multivitamins for growth is a great tasting, breakable chew specially formulated to support brain, bone, joint, skin, immune and gut health during the high-growth puppy phase.
- 40 Day 100% Taste Guarantee or your money back: Learn more
- Tried, tested and trusted by over 10,000 Australian pet parents

FREE standard shipping on orders over $49!
ZamiPet Best Start Puppy Multivitamins for growth is a great tasting, breakable chew specially formulated to support brain, bone, joint, skin, immune and gut health during the high-growth puppy phase.
- 40 Day 100% Taste Guarantee or your money back: Learn more
- Tried, tested and trusted by over 10,000 Australian pet parents

Always read the label. Intended for occasional or supplemental feeding in line with directions or advice from your animal health professional.
Puppy Vitamins for Growth
Puppies grow and develop rapidly! They are exposed to a variety of physical and mental stressors as they learn to navigate a new world, including weaning, separation from their mother and litter, and adjusting to a new life with you. These stressors, combined with rapid growth, mean that puppies may need increased nutritional support (especially from B vitamins), to get them off to the best start. Optimal nutrition is also critical in supporting the development of a healthy immune system. Read More
Why use ZamiPet Best Start Puppy Multivitamins?
ZamiPet Best Start Puppy Multivitamins for bone growth is more than just a multivitamin for puppies. It's formulated with a host of beneficial ingredients at optimal levels, including:
Vitamins C and E
B group vitamins
Omega-3
Prebiotic
Turmeric.
Specially formulated with:
Puppy-tailored blend of vitamins and minerals: Includes Vitamins C, E, A plus B group vitamins along with Magnesium, Zinc, Calcium, Iron and Selenium to support optimal development and health in puppies.
Omega-3 (EPA & DHA): Important fatty acids with wide ranging health benefits for developing puppies including healthy development of immune and circulatory systems. Omega-3 also helps Improve cognitive and neurological development, and supplements containing DHA may improve memory or learning in young dogs.
Inulin (Prebiotic): Important source of non-digestible fibre that promotes the growth of beneficial bacteria already in the colon and helps protect the lining of the gut. Prebiotics can positively shape the microbiome, which enhances general health and immunity in developing puppies.
Turmeric: Curcumin, the active ingredient in Turmeric, has natural antioxidant, anti-inflammatory, anti-allergenic and immune-modulating properties, helping puppies develop into healthy dogs.
Locally sourced chicken: Made with delicious Australian chicken.
Specially formulated for:
Supporting puppies aged 6 weeks and above to assist with:
The high-growth puppy phase
A healthy immune system, especially during times of stress such as weaning away from their mother and litter
Digestive system health
Growing strong, healthy bones and joints
Development of nervous system, helping with training and learning new skills.
It's not just the formulation that has been tailored specially for puppies. ZamiPet's unique, clover-shaped chew has been reduced in size from 2.2cm (adult size) to 1.8cm for ZamiPet's Best Start Puppy Multivitamins. The chews can also be easily broken into smaller segments, allowing you to vary portion size depending on your puppy's needs.
For optimum health
ZamiPet Best Start Puppy Multi has been specially formulated to use in conjunction with ZamiPet Dental Sticks and ZamiPet HappiTreats®.
Common Health Issues with Puppies & How Growth Vitamins Can Help
In the first few years of their life, puppies are exposed to a huge variety of potential health hazards as they explore the world. Dogs are inquisitive by nature, which, while providing endless amounts of entertainment and fun for everyone involved, can sometimes mean they risk leaving themselves vulnerable to potential dangers to their well-being. New dog owners have to be vigilant to these surroundings when taking care of their puppies and be constantly aware of changes in their health. With guidance from the vet, owners should always be looking for opportunities for exercise, mental stimulation, socialisation, the right diet and the right puppy vitamins for growth, strength and vitality. As a responsible pet parent, they should also understand some of the common problems that puppies face.
Gastrointestinal Issues
You may have noticed that your puppy is not particularly fussy when it comes to finding things to eat. After all, there are so many new smells and tastes to explore! This inclination towards eating things that are not necessarily good for them will only increase as their teeth get stronger and they become more mobile. As a result, they may eat things that can sometimes cause damage to their intestines, such as socks, rubber bands and even missing underwear, that need to be removed surgically.
It's not just things that they eat, either. Puppies are well attuned to their environments and are constantly looking for reassurance from their surroundings. When they experience a significant change, such as moving to a new house away from their mother and litter mates or a visit to the vet, they can suffer from high amounts of stress, which can have a big impact on their digestive system.
Problems with a puppy's gut can interfere significantly with their immune system and growth, sometimes suppressing their appetites. With our growth supplements for puppies, gut health can be supported, as well as making sure they receive key vitamins and minerals, helping your puppy to grow strong and healthy.
Gut Health
As a puppy physically grows larger, it's important to also consider their developing gut health. Supplements for puppies with prebiotics like inulin provide a food source for the good bacteria in the gut, which helps to shape a health microbiome. A balanced and healthy microbiome will allow the immune system to function optimally, helping to reduce the change of the pup getting sick, so all the nutrients it gets go into growth and development, rather than healing or fighting off disease and illness.
Injury
More than any other domesticated animal, puppies have a habit of throwing themselves into potentially physical modes of play as they learn and grow. Whether it is misjudging a particular action, play fighting or actually fighting with other dogs, puppies can hurt themselves in a myriad of ways, which can include breaking bones. Whilst this cannot always be avoided, you can limit the long-term damage of a broken bone by building strength with a puppy-specific food and a puppy bone growth supplement.
Skeletal Issues
There are some breeds of dogs that have, unfortunately, developed abnormalities in their bone structure which can become a problem early in a dog's life. These can be problems with joints or hip placement that may lead to the early onset of osteoarthritis.It is important if your breed of dog is one of those that tend to suffer from this that you consult with your vet at your earliest opportunity. These issues can be supported by a complete and balanced diet, the right exercise regime and the appropriate use of growth vitamins for puppies to help build up muscle mass around the joints. Read Less
Directions for use:
Feed chew(s) daily as per feeding guide below, or as recommended by your animal health professional. One chew equals approx. 3 g. Suitable for puppies aged 6 weeks and above.
When to Use:
Use ZamiPet premium health supplements with morning and/or evening meals, following the feeding guide provided. For optimum support, use in conjunction with ZamiPet HappiTreats® every day to treat your best friend to a nutritious snack with added health benefits.
Key Ingredients
Australian sourced Chicken
Vitamin Blend (E, C & A and B Group vitamins)
Mineral Blend (Magnesium, Calcium, Zinc, Iron & Selenium)
Full Ingredient List
Australian Sourced Chicken Meal; Rice; Glycerol; Gelatine; Natural Flavours; Starch; Inulin (Prebiotic); Fish Oil (source of Omega-3); Magnesium Phosphate; Skim Milk Powder; Salt; Emulsifier; Vitamin C; Food Acid; Vitamin E; Zinc Sulphate; Hydrolysed Vegetable Protein; Calcium Carbonate; Potassium Sorbate; Turmeric; Iron (Ferrous Sulphate); Natural Antioxidant; Copper Sulphate; Selenium; Vitamin B3 (Niacin); Manganese Oxide; Vitamin B2 (Riboflavin); Biotin; Vitamin B12; Vitamin B1 (Thiamine); Vitamin A; Vitamin B6; Folic Acid.
Typical Composition:
Protein 34.7%; Fat 7.3%; Fibre <0.1%; Salt 2.3%; ME 36 kJ/ 3 g.
No artificial colours or flavours.
MANUFACTURED IN AUSTRALIA
Why Subscribe to ZamiPet?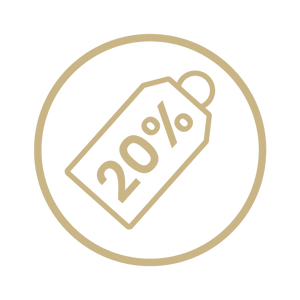 20% ongoing discount
Save 20% off RRP now and on all future subscription deliveries
Easy, regular delivery
Your favourite ZamiPet products automatically delivered, at a frequency that suits you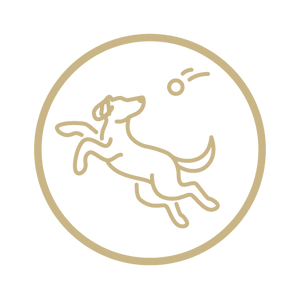 Less life admin
More free time to spend doing what you love with your dog
Frequently Asked Questions
How do I know if my dog needs a multivitamin?
Despite an owner's best efforts, sometimes animals can't always get all the nutrients they need from diet alone. When your dog is lacking its usual energy, or you have a fussy eater in need of a nutritional boost, ZamiPet Complete Care Multi provides key vitamins and minerals to help fill nutritional gaps and maintain general health and vitality.
How long is my dog considered a puppy?
Puppies mature into adults at different stages depending on the breed and the individual dog itself. As a general guide, larger breeds remain in their puppy stage until about 15-18 months, while smaller breeds will be puppies for approximately 10-12 months.
How do I best feed my dog a ZamiPet chew?
Developed for easy feeding, the unique clover-shaped ZamiPet chew can be consumed whole or broken into segments. Please refer to the directions for use to determine the recommended daily serve based on your dog's weight, or speak to your animal health professional.
Are the ZamiPet chews soft enough to break apart?
Yes! We've developed the ZamiPet chews so they can be broken into smaller pieces, so you can vary the dosage depending on your dog's weight. They're also perfect for smaller or fussy dogs who might find smaller pieces more manageable.
What is the best way to store my ZamiPet chews?
Always store your ZamiPet chews below 30°C out of direct sunlight, protected from moisture, heat and light. To maximise freshness, always keep the container tightly closed.
Can I use ZamiPet chews as frequent treats or rewards?
Whilst your dog will no doubt love our chews and see them as delicious treats, the ZamiPet range has been specially formulated for supplemental use and should only be dispensed as per the directions for use, or as recommended by your animal health professional.
For the perfect treat for dogs with added health benefits, explore our range of ZamiPet HappiTreats®.
My dog is a fussy eater and won't be easily tricked into trying something new. How will I go feeding the ZamiPet range to my pet?
There's a fussy eater in every household! We've formulated the ZamiPet range to make our chew supplements, dental sticks and treats super-tasty and irresistible to dogs, using locally sourced chicken and salmon, plus aromas your pet will love! Our ZamiPet High Strength Probiotics+ are unflavoured so you can mix in or sprinkle on top of your dog's favourite meal.
But just like people, dogs have individual food preferences. This can create some challenges and frustration for pet parents when trying to introduce something new to your pet's diet. We've written a blog, 11 Ways to Introduce New Foods to Your Dog, which provides some steps for how to introduce new foods and treats to your best friend.
Should I feed my dog its ZamiPet chews at mealtime?
ZamiPet chews can be fed to your dog at any time of the day as per the recommended dosage. However, the easiest way to always remember your dog's ZamiPet chew, is to feed alongside your pet's main meal. For optimal results, it's best to give your dog the prescribed number of chews in one feeding.
Is it OK to give my dog different products from the ZamiPet range at the same time?
Our Australian vets have formulated the ZamiPet range so that products can be paired together depending on the health needs of your pet, both safely and effectively. Please ensure you always follow the feeding guidelines on the label or speak to your animal health professional.
Are ZamiPet products made in Australia?
All products in the ZamiPet range are manufactured in Australia.
Can I give my dog ZamiPet HappiTreats® as well as ZamiPet premium health supplements?
Yes! ZamiPet HappiTreats® have been specially formulated for use in conjunction with ZamiPet premium health supplements for optimal health. Please refer to the feeding guide for the correct dosage for your pet.
We recommend feeding your dog ZamiPet HappiTreats® during the day, between morning and evening meals.
Will my dog like the taste of ZamiPet High Strength Probiotics+?
ZamiPet High Strength Probiotics+ are unflavoured so you can mix in or sprinkle on top of your dog's favourite meal. And with a modest 1.2 g per serve, your dog is unlikely to notice the powder at all!
What does CFU mean and why is it important?
Probiotics are measured in colony forming units (CFU) and are generally calculated in millions or billions per serve. CFU is one of several indicators used for probiotic quality and refers to the number of living or viable microorganisms in one serving of probiotic supplement. The CFU number is important in the context of ensuring your dog receives a high enough number of live bacteria per serve to improve the balance of good bacteria in the gut. Other important indicators of quality for probiotics include the right strains (or combination of strains), scientific evidence to support the desired health benefit, and suitable packaging (such as single-serve sachets) to protect probiotic viability and stability.
Why don't ZamiPet High Strength Probiotics+ need to be kept in the fridge?
Fridge-free probiotics – often referred to as shelf-stable probiotics – are created by freeze drying live bacteria, which remain dormant until they come into contact with moisture.* Because probiotics are sensitive to heat and will naturally decline in numbers over time (especially unrefrigerated), shelf-stable probiotics are over-filled with live strains, referred to as overage. This ensures there are enough viable probiotics for your dog right up until the end of the product's shelf life. For example, whilst the ZamiPet High Strength Probiotics+ range declares 2 billion CFU per serve, in reality this number is significantly higher at the time of manufacture to allow for the natural decline in numbers over time until end of shelf life.
*As ZamiPet's High Strength Probiotics+ range is packed in single-serve sachets, our product won't be exposed to moisture until it's opened and fed to your dog. This ensures most of the beneficial bacteria will survive to perform their important function in the gut.
How long will ZamiPet High Strength Probiotics+ take to work and how long should my dog take them for?
Whilst every dog is different, it can take anywhere from a few days to 2 months for your pet to feel the benefits of a probiotic supplement. Probiotics need time to work on increasing your dog's good bacteria in the gut, whilst also decreasing the harmful bacteria at the same time. Patience is key, so Dr. Andrew McKay (ZamiPet's Head Vet) advises you continue with the recommended daily dose of ZamiPet High Strength Probiotics+ for at least two months. If symptoms persist, visit your vet for further guidance.
Are there any known side effects supplementing my dog's diet with probiotics?
The purpose of giving probiotics to your dog is to help restore balance to their gut and prevent levels of bad bacteria overpowering beneficial bacteria. Re-establishing this balance can take time and it's not uncommon for your dog to experience a short period of temporary digestive adjustment, symptoms of which may include flatulence, loose stools, or diarrhoea. This can be part of the normal process as your dog's gut transitions to a healthier microbiome and is a positive sign the probiotic is doing its job.
In the event symptoms of digestive adjustment continue, ZamiPet's Head Vet, Dr. Andrew McKay, recommends you stop providing the probiotics to your dog for 2 days to allow the gut to settle, and then commence again with half the recommended daily dose for 3 days, before increasing to the standard recommended dose thereafter. If symptoms persist, please visit your vet for further guidance.
Are ZamiPet High Strength Probiotics+ suitable for puppies?
ZamiPet High Strength Probiotics+ are suitable for puppies aged 8 weeks and older. In fact, two of the strains in ZamiPet High Strength Probiotics+ Gut Protect (Lactobacillus rhamnosus and Enterococcus faecium) have demonstrated a benefit to the immune system health of puppies.
What happens if my dog eats more than the recommended daily dose?
ZamiPet Relax & Calm supplement chews will not harm your dog if they consume more than the recommended dose. However, if your dog eats the entire tub – and yes, some dogs have liked our product so much this has happened before! – please contact us or consult your vet.
Choosing a selection results in a full page refresh.
Press the space key then arrow keys to make a selection.
Use left/right arrows to navigate the slideshow or swipe left/right if using a mobile device
Something went wrong, please contact us!
Other dog parents also bought